With a final score of 50-37, the T-Birds season comes to an end in De Soto. Awesome season, gentlemen, we are proud of you!!
A hard fought game, but Heights falls to Mill Valley 44-48. GREAT season, ladies!!! We are proud of you!!
Final from the opening round of sub-state, Heights 64, Mill Valley 47. The T-Birds advance to play in De Soto on Friday at 7pm. Go Birds!
At halftime of the first round of sub-state, Heights leads Mill Valley 31-21. #GoBirds
At halftime of the first round of sub-state, Heights leads Mill Valley 31-21. #GoBirds
Sub-state basketball reminder: Tonight's (3/1) boys, and tomorrow's (3/2) girls sub-state basketball games v Mill Valley, are KSHSAA events, hosted at our school. NO passes are accepted. Tickets are sold at the door, and are $5/$7. Go Heights!!
Do you have new or gently used children's books laying around that could use some love? Send them in to be donated to the Senior AVID Battle of the Books drive to be donated to those in need in our community! See flier for details!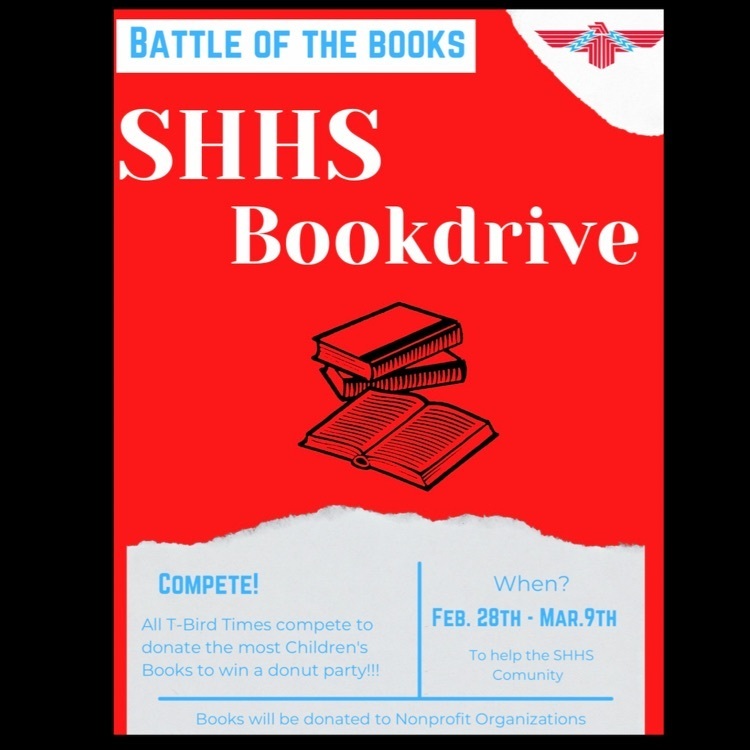 Today is the FIRST DAY OF SPRING SPORTS!!!! Try out info can be found online (in the announcements) or by reaching out directly to the head coach. The Activity Bus will be at the back of the line, leaving at 2:45 for the lake. Go Birds!!
Tonight is SENIOR NIGHT for our winter activities, between the varsity girls game and the varsity boys games v. Turner. Catch it live, here:
https://www.youtube.com/c/ShawneeHeightsUSD450
The varsity girls will tip off at 5:45. Senior parents please meet in the southeast stairwell (opposite of normal spot by the wood shop) no later than 6:45 to make sure that you are in line, ready to go. Please look for the paper with your child's activity/team. The varsity boys game will start at approximately 7:15.
FINAL from Heights, T-Birds 58, Piper 55. Next game for the Birds is Tuesday at DeSoto, then back home Wednesday for senior night v. Turner.
The ladies take care of business 55-30 to start our Basketball Saturday. The guys are warming up now, will start in 15 minutes vs. Piper.
T-Birds: Due to road conditions/transportation challenges, Turner cannot make the trip tonight for basketball. Both Varsity games AND Senior Night will now be WEDNESDAY, 2/23/22, same times and same schedule.
Athletics/Weather update, Thursday (2/17): Practices schedules for this afternoon should have been communicated by your athletes head coach. All practices are OPTIONAL, and Varsity only. Please drive safe!
Athletics/Weather UPDATE (2 of 2) for Thursday 2/17/22: A decision on practices for this evening will be made at noon, and communicated through coaches and social media. All games, contests, and senior night for tomorrow (Friday 2/18) are on as scheduled.
Athletics/Weather UPDATE (1 of 2) for Thursday 2/17/22: Today's VARSITY basketball games v. Piper have been moved to Saturday, 2/19/22. Varsity Girls will play @ 10am, Varsity boys will follow. Sub-Varsity games have been cancelled.
CONGRATULATIONS to our T-Bird Womens Wrestling team on bringing home the UKC conference title last weekend, and the REGIONAL CHAMPIONSHIP TODAY!!! Way to TCOB!!! Good luck to the 8 lady's who qualified to advance to the KSHSAA State Championship in 2 weeks!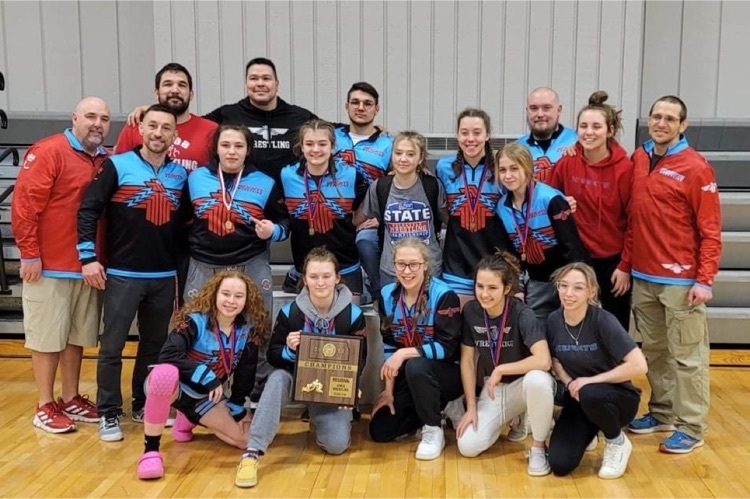 Good morning, T-Birds! Afternoon practices for today, Thurs 2/3, are OPTIONAL, at parent discretion. Times and locations of those teams still practicing will be communicated to the athlete from the coaches of those programs. If you do not feel that it is safe, please stay home.

Road conditions have deteriorated over night due to snow drifting. Shawnee Heights USD 450 classes are cancelled today, February 3, 2022, due to winter weather conditions. Stay safe, stay warm and have a wonderful day.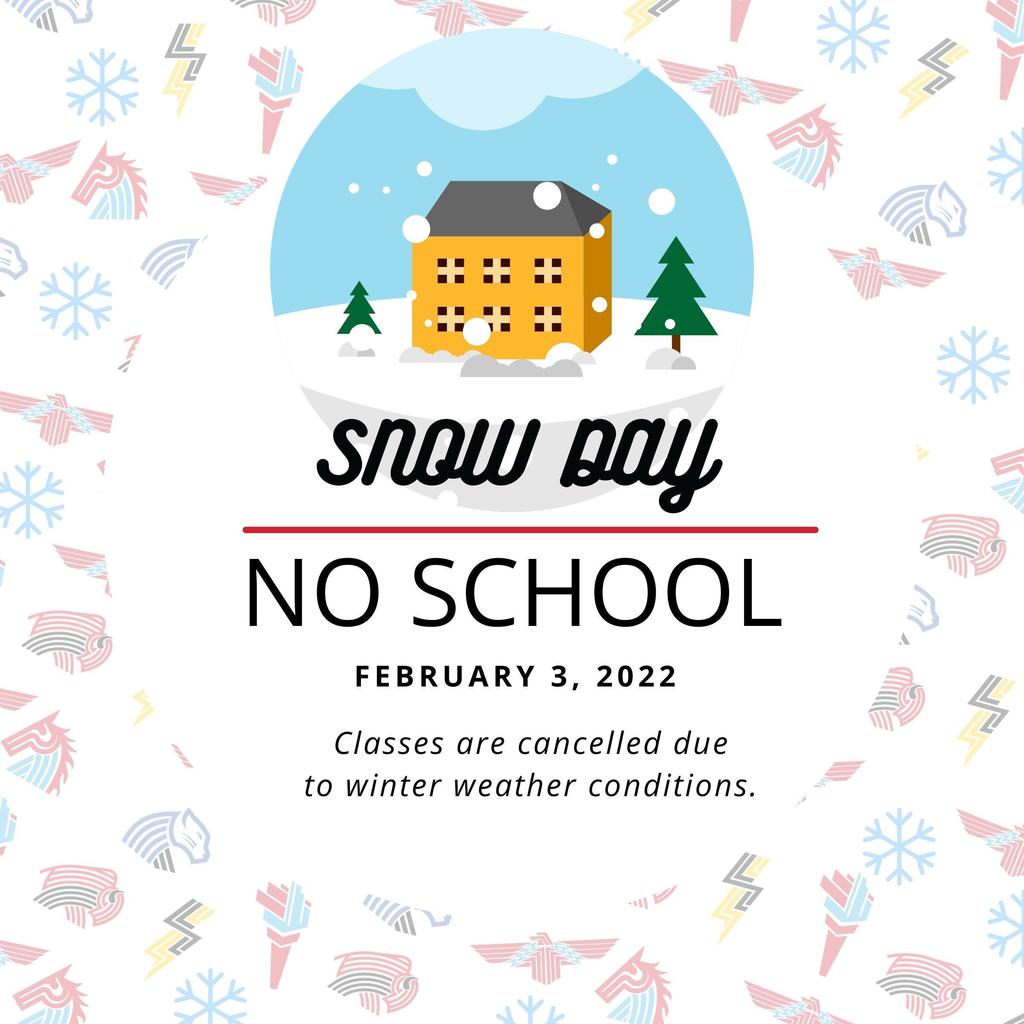 Due to the impending weather conditions, Shawnee Heights USD 450 classes are cancelled tomorrow, February 2, 2022. Stay safe, stay warm and have a wonderful day.